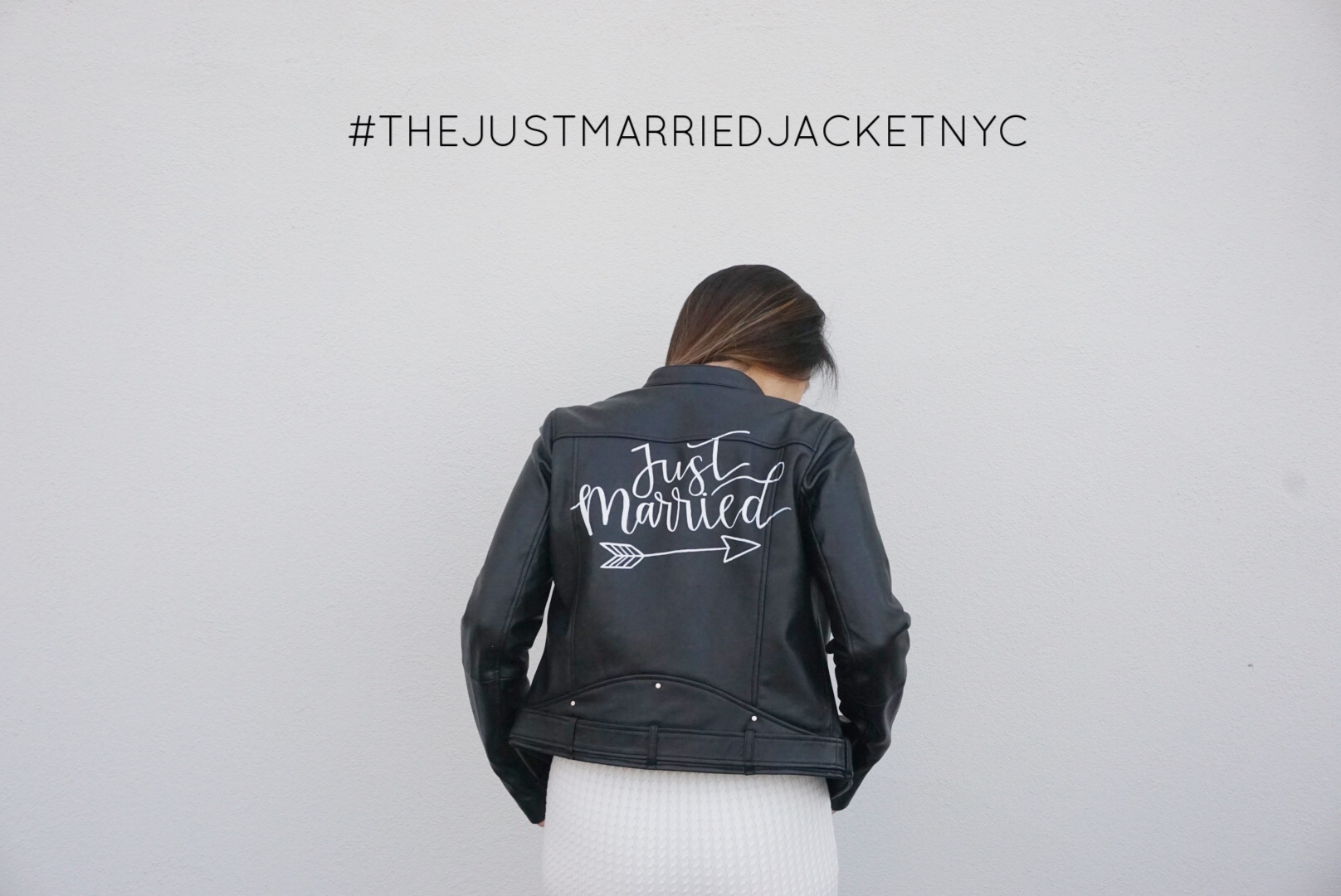 Join the Sisterhood of the Traveling Jacket.
What is the #TheJustMarriedJacket?
#TheJustMarriedJacket was brought to life by Sylvia, of ViaCalligraphy, who wanted to incorporate some of her edgy personality into her intimate 8-person wedding. Read more about her story at ViaCalligraphy. Since her wedding in June 2016, the original #TheJustMarriedJacket has touched the weddings of over 30 Toronto brides with full bookings all the way through 2018.
I am so excited to be working with Sylvia to bring the project to my native New York City. Sylvia's story stood out to me for her general badass-ery and when I learned of the jacket, I wished so hard that I had the jacket for my own NYC wedding. Like Sylvia, I have also shared bits and pieces of my own wedding details with fellow brides and I got to experience firsthand the joy of sharing my good vibes with someone else. #TheJustMarriedJacketNYC is a way to take those good vibes and spread it out on an even bigger scale!
Book
See if your date is free, use the
contact form to reserve your dates from
Wednesday to Tuesday.
Trade
Trade the jacket for a bottle of wine.
Wear and celebrate.
(Local pickups only.)
Return
Return #TheJustMarriedJacketNYC so that others in the bride tribe can join in the joy.
FAQ
What size is #TheJustMarriedJacketNYC jacket?
It is a size medium, moto-cut leather jacket with a slight boyfriend cut.
How long can I reserve #TheJustMarriedJacketNYC for?
To maximize the number of brides who get to wear the jacket, we limit each booking to one week, from Wednesday to Tuesday.
Will you ship #TheJustMarriedJacketNYC jacket out of the city?
Logistically speaking, the scheduling of #TheJustMarriedJacketNYC works best with in person pick-ups and drop-offs. As one person running the NYC project, I am unable to accommodate shipments out of the city.
What if my dates aren't available?
You are welcome to reach out and get on the waitlist for a particular date. Feel free to check back to see if your dates free up.
What if I'm not in New York City?
If you are not local but wish to have a custom jacket for your special day (or any regular day, really) I am happy to make you one to keep! I insist on not replicating #TheJustMarriedJacket but I am happy to work with you to create a unique and custom design for your keepsake. Please reach out or shop the custom jacket above to learn more.
NOT IN NEW YORK?
- Join the Sisterhood Worldwide -
Our sisterhood is going global, with collaborations spanning several countries.
Check to see if the Jacket is in your city!